Strengthening students by connecting them with the love and life of Jesus Christ.
Welcome our new Youth Ministry Directors!
Hey! We are Megan and Sam Anderson, and we are so excited to jump in and join the team here at Redeemer.

Our whole relationship has revolved around being in ministry, we have volunteered and been on staff in two different youth ministries in the last 7 years.

We were married in 2018, and in 2021 we welcomed our sweet daughter, Levi, into our family!

Our passion is for the youth of this generation, we believe in family culture, and cannot wait to show each one of these students how much they are loved, gifted, and chosen.
CHRISTIAN EDUCATION
DeWitt Campus • Sunday at 9:30am
in the Student Center gym
WEEKLY YOUTH GROUP
6th – 8th graders
Tuesday Nights from 6:00 – 7:30pm
CONFIRMATION
Confirmation is a time to learn about our church on a local and global scale and to discover what it means to be a faithful Christian. Our confirmands reaffirm the vows made at
Baptism
and publicly state their decision to follow Christ.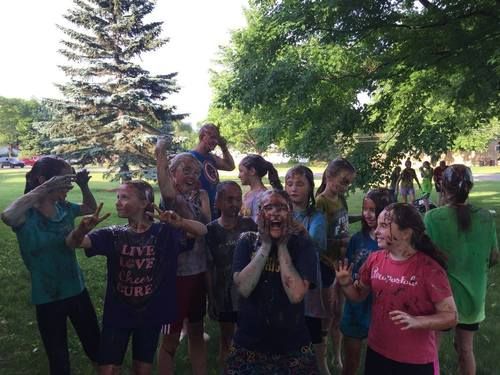 CHRISTIAN EDUCATION
DeWitt Campus • Sunday at 9:30am
in the Student Center gym

HIGH SCHOOL GROUP
Sunday Nights from 6-7:30
Located in the gym

Come for a fun night of games, faith-based teaching, and community!

We are always open to volunteers -fill out the form at the bottom of the page if you're interested in volunteering!
Currently, Redeemer Church only holds Student Ministry at our DeWitt campus. We provide activities for both middle and high schoolers on Sundays and during the week.

Regular programs run from September through May.
register for christian ed
Opportunities for Redeemer Students
Wesley Woods Camp & Retreat Center is a purpose-driven, year-round ministry site. With 300 acres of beautiful grounds and camps or retreats offered year round, they aim to carry out the mission of "Growing in Faith, and Serving in Strength."

They provide year-round opportunities for groups or individuals of all ages.
CAC is a unique overnight camp experience for students going into 7th grade through recent high school grads. We provide team and individual sport training and competition in a fun and action packed week.

This Christian environment allows students to explore and develop their faith walk, or be introduced to the love of Jesus Christ. We lead a relevant and powerful Christian message through small groups, nightly praise and worship, and a daily message based on the theme of the week.
Redeemer's mission trip exists to help students get to know God in a different environment through devotion and service, spread God's Word and show God's love by serving others, and be in fellowship with other people from other areas in our world.


A $75 scholarship is available for any Redeemer youth who completes the
application form.
The scholarship may only be used once per year per student. It is important to indicate the official camp number assigned by the West Michigan Conference to be sure that your scholarship is applied correctly at the conference office level.